Jardin Secret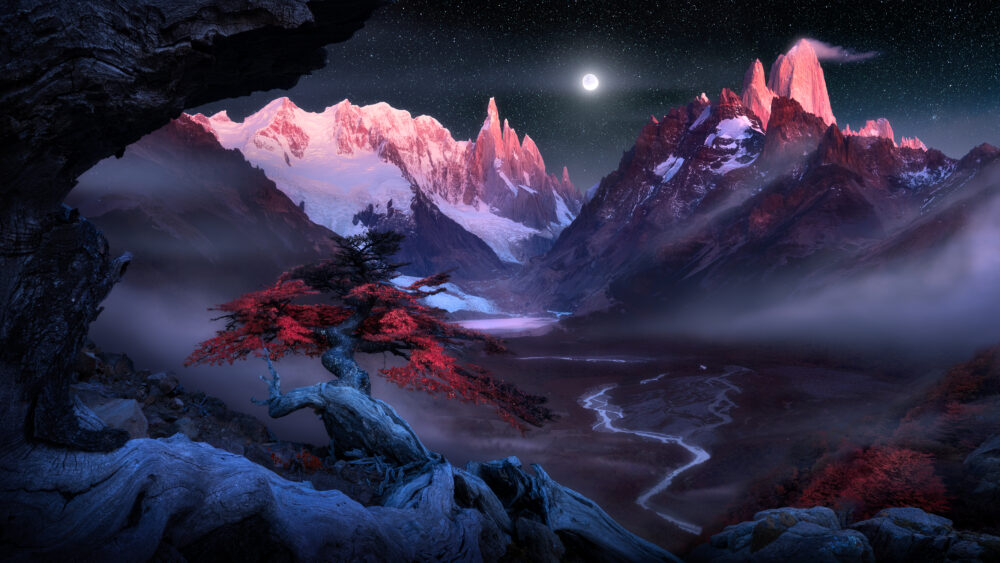 Reserve: 30 ETH
Description
Inspired by the Feminine, Love and Desires.
Argentina (Patagonia)
October 2022. A primal need to express new emotions within my work provoked by a strong desire to reconnect with my feminine energy and communicate a more vulnerable part of myself. Through the reminiscence of love experiences and explorations of myself, I imagined and birthed to life the physical world of my own Jardin Secret.
Composed of 21 images, the different elements of this artwork have been photographed in two different valleys at the west and east of mount Fitz Roy, separated by an imposing mountain range, Loma de las Pizarras. Reunited into a single image, they can only co-exist in my imagination.
To those who can feel beyond the mere surface appearance, their embrace in art form reveals in subtlety secret textures of one's fantasy world, a woman's precious inner landscape.
The lone tree evokes the feminine energy, overlooking imposing peaks and a vast, mysterious, ever-changing valley. Emerging from her own shelter deeply rooted in earth, the feminine longs to be seen, desired … loved. The warm, luxurious tints of red, orange and burgundy arouse a sense of passion and love, while the soft, velvety textures of the leaves invite a gentle, sensual, tactile experience. On the edge of the precipice, the tree is exposed, bare and vulnerable, filled with vertigo. It symbolizes the discomfort of unveiling layers of armor as to allow myself to be witnessed in the depth of my femininity.
Highly contrasting, but also offering a vast container of grounded, unwavering presence for the feminine tree, the surrounding dominant peaks summon the complementary masculine parts of the inner union. This piece expresses an underlying eagerness for harmonization of both polarities of energy within myself; as the rough, firm, assertiveness of the my own masculine has been the most present and praised over the past decade.
The valley hidden in the dark opens the portal to the underworld… the most somber parts of the feminine, the secrets, the illicit and the darkest desires.
The moon, illuminating the entirety of the scene, both the feminine essence and the masculine presence, is the linking energy between all. Blessing the vision with immaculate wisdom, she sheds light on a vulnerable, multidimensional world of fantasies.
Finally, the creation of artwork helped me recognize, understand and shed the multiple layers of my own femininity and express my deepest desires. It was a truly transformative experience.
Details
May 22, 2023
Released:
Cath Simard
Links